Time to CLEARANCE OUT some RV's!
Well folks, it's that time again.. I know what you're saying, FINALLY!!
We have some units on the lot that just have to go, so we're knocking prices down to Rock Bottom and just in time for Christmas! Imagine your families face when you remove the blindfold on Christmas morning to a beautiful RV sitting in the driveway.  This will be the best gift you've ever given because of the adventures that will come out of it.  Journeys full of laughter and sites that you never even knew existed, UNTIL NOW!   Give memories that will last a lifetime this Christmas.
First, we have a 2005 Excel 36RDO. This beautiful 5th wheel has Keyless entry, an upgraded awning wrap to protect from the sun, 10 cu ft refrigerator because more food means a better vacation, a pull-out pantry, 2 A/c units, a Fantastic Fan with rain sensor and a ceiling fan. Those Summer vacation heat waves won't have nothing on you!   Lots to love with this 5th wheel!!
ONLY $19,900   Check it out here..  https://rvsalesnm.com/listings/2005-excel-limited-l36rdo/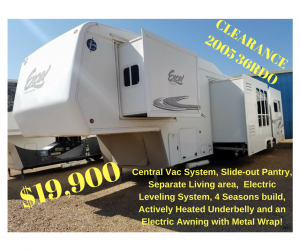 Next, we have a 2007 Excel L33RSO with all the convenience and comfort of home. She has running light on the inside so you can be up at night without waking up everyone else, or stubbing your toe on the way to the restroom. The bedroom is a dream, with a king sized Temperpedic mattress and plenty of storage space. It has a Large living area with an electric fireplace and TV
JUST $19,500  Click here to learn more…  https://rvsalesnm.com/listings/2007-excel-l30rso/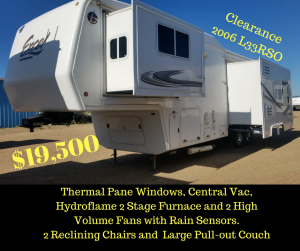 And, this beautiful 2011 Excel Winslow D31RLE is just too good to pass up. She comes with an A/C and Fantastic Fan with rain sensor in the Living area, 2 Recliners and a pull-out couch, Flat screen TV and built in surround sound. The kitchen is spacious for the cook with a 3 burner gas stove and 8 cu ft refrigerator. This unit also has a Central Vac system with built in Dust pan!
ONLY $29,000  More pictures here… https://rvsalesnm.com/listings/2011-excel-winslow/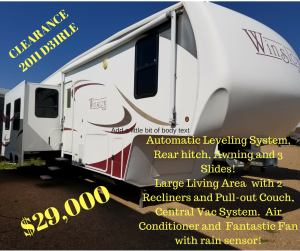 But wait, there's MORE!! This 2008 NuWa Hitchhiker is yours for the taking at this incredible price! This unit has Hydraulic Jacks with a 4 point leveling system. 2 Awnings WITH metal wraps to protect from the sun and a rear hitch. The inside is equipped with a Philips flat screen TV and surround sound, Computer station for working on the road, a huge bathroom pantry with shelves, vanity mirror closet doors and a glass shower enclosure.
Yours for ONLY $19,000   Click here to learn more…https://rvsalesnm.com/listings/2008-hitchhiker-da-348sb/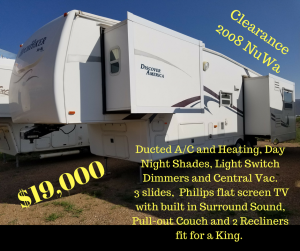 And this beautiful 2007 Excel L30RKE is a great catch for anyone who is new to the RV life. It comes with a Hydraulic leveling system, rear hitch and manual Awning. The interior is in great condition, with a rear kitchen to provide a fantastic view while cooking. A flat screen TV, Surround sound, Central Vac system, Queen sized pull out couch for guests and Day/Night shades. This unit has so many awesome qualities and at this price, you'll feel like you stole it!
Just $18,000  Click here for more info… https://rvsalesnm.com/listings/2007-excel-limited-l30rke/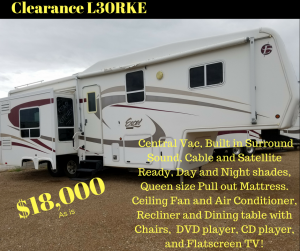 And last but certainly not least, we have a 2005 Excel L33RSE. This Excel is also a great buy for the first time buyer. You get an Electric awing with upgraded metal wrap to protect from the sun. It has a Central Vac system, Flat screen TV with Dolby Digital surround sound. 8 cu ft refrigerator, built in hamper, vanity mirror closet doors, under-bed storage and a huge storage space in the underbelly for extra's. This unit has some water damage over the kitchen slide so we're slashing this price well below MSRP as an "as is" sale at ONLY $15,750  Check it out here… https://rvsalesnm.com/listings/2005-excel-l33rse/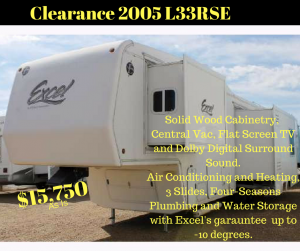 Find all of our inventory at  https://rvsalesnm.com/