ARCTIC FOX
Arctic Fox fifth wheel and travel trailers by Northwood Manufacturing is our flagship product line.  These units boast a long list of standard features, and are brought together with quality construction and engineering.  Arctic Fox units result in customer loyalty that is seldom found in the RV industry.
FOX MOUNTAIN
Fox Mountain fifth wheel is built for dependability.  When we look for a manufacturer to represent on our family's lot, we look for dependability, reputation and comfort.  We are proud to partner with Northwood to provide a structurally sound rig that is built with your family in mind.
NASH
Nash is a travel trailer that is small enough to maneuver those National park campsites, but also provides a floor plan that is comfortable and spacious.  These travel trailers are another dependable option we are proud to offer from our family to yours.
LITTLE GUY MAX
Starting at just 3,010 pounds, the Max comes standard with an abundance of deluxe features and a refined exterior style. With an impressive 6'7" interior height, the Max's versatile cabin space incorporates lush materials to sleep and live comfortably, and thoughtful details – from ample storage and charging outlets to innovative entertainment features and LED lighting – the interior is an adventure all by itself.
LITTLE GUY MINI MAX
The Little Guy Mini Max has a small footprint, but it's big on adventure. Taking several cues from it's bigger brother, the Mini Max features the same high quality materials, superior craftsmanship, and thoughtful details as the larger Max. The weight of the Mini Max starts at 2,320 lbs., making it an ideal companion for most small SUVs, and well-equipped crossovers. The Mini Max is designed to deliver maximum fun in a compact package.
LITTLE GUY MICRO MAX
Our most garageable, full-featured travel trailer. With a dry weight starting at just 1,860 lbs., towing is easy with most SUVs and trucks. It sleeps up to 3 adults, & provides seating room for up to 6 adults. The Micro Max protects from the elements with a 3.5 season construction, & reliable Azdel™ composite sidewalls and roof. The roomy interior living space is full of residential-quality features, including: tons of storage, 100% hardwood cabinetry, powerful heating and cooling, and great entertainment options.
EVO
The Evo is our newest travel trailer line and was picked up with our entry level customers in mind. We want to be able to offer a build to our customers who are not looking for 4 Seasons rig, but still want good structure and a dependable trailer to enjoy during the camping season.  These eye catching, modern interiors have been painstakingly designed and developed by industry specialists with form, function and style in mind. Attention to detail is what sets Evo apart from the rest.
EXCEL
Excel has always been a part of our family's inventory because of the pride they take in every unit.  Each Excel 5th wheel was put together with a steadfast determination to keep your family on the road.  They're dependable and comfortable with generous living spaces and upgrades already available on most units.
USED
RV Sales of New Mexico specializes in Used RV's.  We regularly have used units from all the major RV brands, and each arel inspected, cleaned and certified by our factory trained staff.  Shop our used inventory today and save thousands versus buying a New RV.
SERVING THE NEW MEXICO
RV COMMUNITY

FOR 40 YEARS
Our family has been proudly serving the RV community for almost 50 years. We are proud to announce that RV Sales has transitioned to the 3rd generation of being family owned and operated  thanks to Ralph and Kathy's daughter, Valerie and Son Clayton stepping up to take the helm. For years, Ralph and Kathy have planned to travel in their RV, spending one month in every state. We are thrilled to see Ralph and Kathy begin the adventure of their dreams.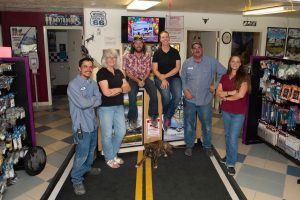 As we transition into this new era, we are extremely grateful for each of you, and look forward to helping you find and maintain the RV of your dreams!
Highly recommend this company. Friendly and Knowledgeable Staff. The best customer service I have ever received at any RV dealer. Helped me to troubleshoot my water tank issue and we got it fixed with just a single part instead of replacing the entire heater. Thank you!

Don Weyant

We purchased a 2011 Excel Winslow and wanted an extra awning installed. Jeanette stayed after the manufacturer who was really dragging their feet shipping out what we were told was an in-stock item. She called daily to find out why it wasn't shipped out yet. We finally agreed to tell the manufacturer to cancel the order from a month prior. Mysteriously they shipped the awning the very next day! We are waiting for it to arrive now and hope it is received in good condition and what Jeanette ordered for us. Jeanette is a super nice and efficient Lady and our thanks go out to her as well as Valerie the owner for staying on top of our needs very efficiently. We are excited about finally getting our Excel after over a month's wait for the new awning to ship. Like a lot of things right now the supplier is very slow to ship out orders because of staff shortage and product availability. Thanks to Jeanette for staying on top of this for us. We are really impressed with the service we have received at RV Sales in Moriarty NM. I would highly recommend them to anyone.

David and Jan McCann

Once again. RV sales under promised and over-delivered. We had the awning on our 1999 Dutchman 5th wheel replaced. The crew at RV Sales did an excellent job and we picked up our 5th wheel 2 days before it was promised. Valarie and her entire crew are the best!! When we retire we are going to upgrade to a bigger 5th wheel and RV Sales is where we will go!

Bruce Cain

This is our third 5th wheel since our retirement started eight years ago. We constantly repaired the first two every time we used them. RV SALES found us an Arctic Fox (and they are hard to find!). It is solid, durable, and very comfortable! RV SALES was the absolute best in seeing to our every need with kindness that is hard to find these days. They had a place to stay, with full hook-ups for a couple of nights, with a technician ready to help us at any time. Awesome! This is the best dealership we have ever encountered! Thank you for being so good to us!

D McB

Only RV dealer I would trust for all RV needs. The best work possible pulled me out of many-a- major problems. Example mouse infestation, great job done and reasonable rates.

James Paster

We bought our first trailer from RV Sales after months and months of looking. Im so glad we decided to drive out of town a bit to look for a camper. They are the most helpful, most informative and most of all the some of the friendliest people. Not one time did I feel pressured to buy! EVERYONE was amazing but a huge thanks to Alyssa and Valerie!! We love our new I-GO camper and are excited for this summers family adventurers! THANK YOU!

Jessie Rae

We are so impressed with not only what RV Sales does for it's customers, but for their outreach to the community. Their 23rd annual trick or treat event which benefits the local food bank is coming up soon. So nice to know people who "walk the walk" not just "talk the talk."

Judy Dumcum

The customer service at RV Sales is unbeatable. They were completely honest with us and we always felt like we could really trust them to make sure we were making the right choice in our purchase. Even though we did not buy a new rv, never the less, the people there made sure all was in order before we left with it. A really good experience and we recommend RV Sales highly. We would most definitely go there again.

Leslie Casanova

I was stuck in Moriarty New Mexico with a boat trailer that had lost two axle bearings. The team at RV Sales took care of me! My trailer couldn't have left me stranded at a better location. Clayton went out of his way to make sure the trailer was fixed and I was ready to hit the road before they closed that Saturday. They made sure that I was fully informed on the status of the parts and repairs. This family run business will make you feel like you're part of family as soon as walk through the door. Thanks again for everything!

Daniel Flegal

Honest as Day is long, friendly & only RV place we would trade with. Thanks gang for getting us fixed up & back on road.

Venita McPherson

They are the most wonderful people , great vibes and they are willing to work really hard to get you in to something! My husband and I cant wait to get our new home.

Brodie Booth

My grandparents have been loyal RV Sales customers for years and now I understand why! These guys are amazing and the customer service is beyond excellent!!! We were having a problem with our truck when we went to pick up our 5th wheel and they didn't hesitate to try and fix it even though it wasn't their responsibility. They worked hard to make sure we were safe and could make our maiden voyage reservations on time. I can't say enough about RV Sales and their staff! They have a new lifetime customer and i couldn't be happier.

Corinn Peer

New owners of the Arctic Fox 2018 27-5L. Everyone we dealt with were so wonderful to us. Took care of all our questions & our needs. They didn't pressure us into buying. We went there to look at a certain model & they showed us that one & a few other ones to compare. They let us take our time to look around. The purchasing part was so easy too & after the final walk through they took care of the few little things that needed attention. I want to thank you all for the great service you provide us. Special thanks to Valarie & Jeanette. You girls rock the RV sales !!!

Sue Green Petree
Recent RV's
Browse through the vast selection of RV's that have recently been added to our inventory.