OUR MISSION IS SIMPLE
Our family has been proudly serving the RV community for almost 50 years. We are proud to announce that RV Sales is currently transitioning to the third generation of being family owned and operated thanks to Ralph and Kathy's daughter, Valerie and Son Clayton stepping up to take the helm. For years, Ralph and Kathy have planned to travel in their RV, spending one month in every state. We are thrilled to see Ralph and Kathy begin the adventure of their dreams.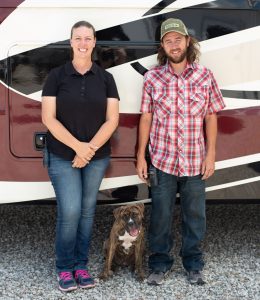 Valerie's grandfather, Tony always said, "Take care of your customers and they'll take care of you." Our family has practiced this philosophy since the beginning and that continues to be our #1 priority. Kathy always joked that the back of our sales contracts are actually adoption papers and each customer becomes part of our extended family when they purchase an RV from us. While the faces may have gotten a little bit younger, our philosophy and commitment to service remains the same.
Our family has always offered the highest quality RVs at the fairest prices.When Peterson Industries closed unexpectedly in 2015, we embarked upon a very thorough search for a new line of RVs. Believe us that is no ordinary task, since Ralph and Kathy were dedicated to Peterson Industries since 1993 and RV Sales has been the #1 Excel dealer since 2001. We have traveled throughout the country trying to find a manufacturer that compared to Peterson Industries when it comes to reputation, quality, strength, insulation, and value.
Our goal was to offer you the highest quality RV, at a fair price, from a manufacturer that we can believe in. We looked for a manufacturer that will be there to stand behind the RVs that they build. We are delighted be representing Northwood Manufacturing's Arctic Fox full time 5th wheels and travel trailers. Northwood has a long, well respected history of building high quality full-time RVs from the frame up with a True Four Season Coach guarantee. If you still want great quality, but lighter weight take a look at their Fox Mountain.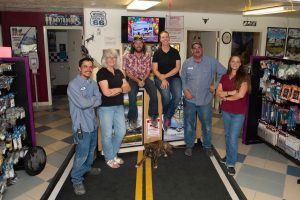 We also have a highly recommended service department as well as a fully stocked parts store. When Excel closed, we purchased a majority of their custom made parts and decals, so if you are looking for something specific, we probably have it or can find it for you.
Did you know that we have a campground that our customers can use while they learn how to use their new RV? When you buy from us, we make sure that everything on the RV works, and that you know how to use it before you get on the road.
We are dedicated to getting you on the road at the fairest price. We have partnered with Priority One, the nation's largest financial service company that specializes in RV and commercial equipment loans.  We can take the hassle out of buying your next trailer.

Our Award winning service department has been recognized by Excel for developing many of the infield fixes that keep them on the road today. Kevin frequently gives RV maintenance seminars at Annual Rally's on regular maintenance and repairs.

With almost 50 years in the business if we don't know your answer, we know where to find it. We take pride in our customers because once you buy from RV Sales, you are family to us and we will always treat you that way.

We come very highly recommended in the full-timers circle.  We have regular customers that will take the trip out of state to see what we have to offer them.  You don't have to worry about a sleazy sales guy, it's just us!
We bought our first trailer from RV Sales after months and months of looking. Im so glad we decided to drive out of town a bit to look for a camper. They are the most helpful, most informative and most of all the some of the friendliest people. Not one time did I feel pressured to buy! EVERYONE was amazing but a huge thanks to Alyssa and Valerie!! We love our new I-GO camper and are excited for this summers family adventurers! THANK YOU!

Jessie Rae

We are so impressed with not only what RV Sales does for it's customers, but for their outreach to the community. Their 23rd annual trick or treat event which benefits the local food bank is coming up soon. So nice to know people who "walk the walk" not just "talk the talk."

Judy Dumcum

The customer service at RV Sales is unbeatable. They were completely honest with us and we always felt like we could really trust them to make sure we were making the right choice in our purchase. Even though we did not buy a new rv, never the less, the people there made sure all was in order before we left with it. A really good experience and we recommend RV Sales highly. We would most definitely go there again.

Leslie Casanova

I was stuck in Moriarty New Mexico with a boat trailer that had lost two axle bearings. The team at RV Sales took care of me! My trailer couldn't have left me stranded at a better location. Clayton went out of his way to make sure the trailer was fixed and I was ready to hit the road before they closed that Saturday. They made sure that I was fully informed on the status of the parts and repairs. This family run business will make you feel like you're part of family as soon as walk through the door. Thanks again for everything!

Daniel Flegal

Honest as Day is long, friendly & only RV place we would trade with. Thanks gang for getting us fixed up & back on road.

Venita McPherson

They are the most wonderful people , great vibes and they are willing to work really hard to get you in to something! My husband and I cant wait to get our new home.

Brodie Booth

My grandparents have been loyal RV Sales customers for years and now I understand why! These guys are amazing and the customer service is beyond excellent!!! We were having a problem with our truck when we went to pick up our 5th wheel and they didn't hesitate to try and fix it even though it wasn't their responsibility. They worked hard to make sure we were safe and could make our maiden voyage reservations on time. I can't say enough about RV Sales and their staff! They have a new lifetime customer and i couldn't be happier.

Corinn Peer

New owners of the Arctic Fox 2018 27-5L. Everyone we dealt with were so wonderful to us. Took care of all our questions & our needs. They didn't pressure us into buying. We went there to look at a certain model & they showed us that one & a few other ones to compare. They let us take our time to look around. The purchasing part was so easy too & after the final walk through they took care of the few little things that needed attention. I want to thank you all for the great service you provide us. Special thanks to Valarie & Jeanette. You girls rock the RV sales !!!

Sue Green Petree
SPONSORSHIP & MEMBERSHIPS